After the soft-release here comes the final release of Sophos UTM 9.1: ftp.astaro.de
You can update from 9.006-05 to 9.100-16. People which installed the soft-release 9.100-8 will get an email some days ago like me to update from 9.100-8 to 9.100-16: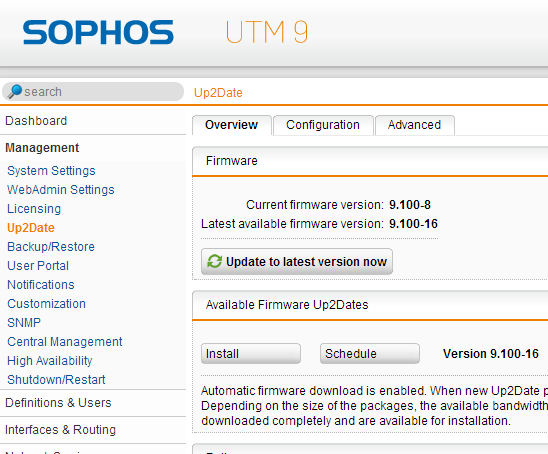 here are the official changelogs for 9.100-16:
Official Up2Date Description:
Remarks
* System will be rebooted
* Configuration will be upgraded
* Database will be converted
* Connected Wifi APs will perform firmware upgrade
* Connected RED devices will perform firmware upgrade
News
Major Features:
* Endpoint: Web Protection for UTM Endpoint
* Network/RED/Wifi: Support for MAC Address Filtering
* RED: Offline Provisioning Mode
* VPN: SSL VPN Support for iOS and Android
* WiFi: Wireless Repeating and Bridging for AP50
Other Features (Sample):
* WebAdmin: Replace "Traffic Lights" with Toggle-Switch Design
* WebAdmin: Replace Flash Charts with JavaScript-only Solution
* Endpoint: SAA for MacOS X
* Mail: SSL Support for POP3 Proxy
* Network: QoS Download Throttling
* Network: IPv6 Prefix Delegation
* Network: IPv6 Renumbering
* Network: DNSSEC Validation
* Network: Allow to specify direction of Country Blocking
* Network: Exceptions for Country Blocking
* Network: Increase Scalability of Network Reporting/Accounting
* Network: Multilink PPP Support
* Network: Amazon VPC IPSec Tunnel Support
* RED: Auto-Deauthorize Devices
* RED: Improve UMTS Modem Support
* RED/VPN: Notifications for tunnel up/down
* VPN: SSL VPN Profiles
* VPN: Support for AES+GCM and AES+CTR Ciphers in IPSec
* WAF: Outlook Anywhere Passthrough Support
* Web: Complete Customization of Block Pages
* Web: Optionally Force Caching of Sophos Endpoint Updates
* Web: Allow to specify Maximum Download Size
* Wifi: Redirect Support for Hotspot
* General: Database Architecture Overhaul
* General: More Services Support Lock-Out after Failed Authentication
* General: Time-Events can Span Across Midnight
Fixes:
#15089: Support for Outlook Anywhere protocol via the Web Application Firewall (Web Server Protection)
#17999: It's not possible to take over the Internet explorer(8 & 9) proxy settings with the SSL VPN client
#18601: Checkbox "Mime blocking inspects HTTP body" enabled does not work when Antivirus scanning is disabled
#19006: Internet Explorer still doesn't trust the webadmin certificate after importing the WebAdmin CA
#20050: gzip deflate compression not working with WAF
#21494: IPS report for pdf and csv is incorrect
#21590: Fix SNMP traps for notifications
#21825: Form hardening breaks 'XHTML 1.0 strict' compliance
#21829: Timeframe and Department missing in PDF header lines
#21857: Reporting: in the Top Applications by Client PDF export the total column is displayed twice
#21861: Application Control Reporting: incorrect data in the exported pdf/xls
#21892: Encryption User: Download PKCS#12 key doesn't work if S/MIME is disabled
#21898: Web Protection Reporting: missing sorting order in pdf under some circumstances
#21928: SSL certificate exceptions do not work for urls with an IPv6 literal as hostname
#21942: IPS notifications contain invalid links
#21957: DHCP server not working properly with large IP ranges
#21958: Live log for packetfilter shows numbers instead of the protocol
#22371: The NAT rule object cannot use network group objects for the traffic destination attribute with uplink primary address
#22546: RED Split-Tunneling via UMTS is not working properly
#22634: Static IP address assignment for RED does not work together with transparent/split mode
#23333: Blocked application name on the block page is truncated
#24156: Search Engine Report => Top 10 pie chart has label with HTML "br" tag in description.
Known issues note regarding Virtualization:
There is a small problem which leads to deadlocks during boot-up on some versions of the KVM virtualization if the KVM instance uses more than one CPU. The workaround is to only use this version in KVM instances with one CPU.
The ISO installer sometimes hangs on start-up when using Citrix XEN. The workaround is to install 9.006 and use the Up2Date to 9.100 to run this version.