You can provide the Cisco Aironet Wireless Controller address to your access point via DHCP option 43, so you don't need to configure manually every AP itself. In my case, I had a Cisco WLC 5508 HA cluster on the headquarter and Cisco 2700 access points at a remote location. Open your DHCP management console at your server and configure an option for the specific scope: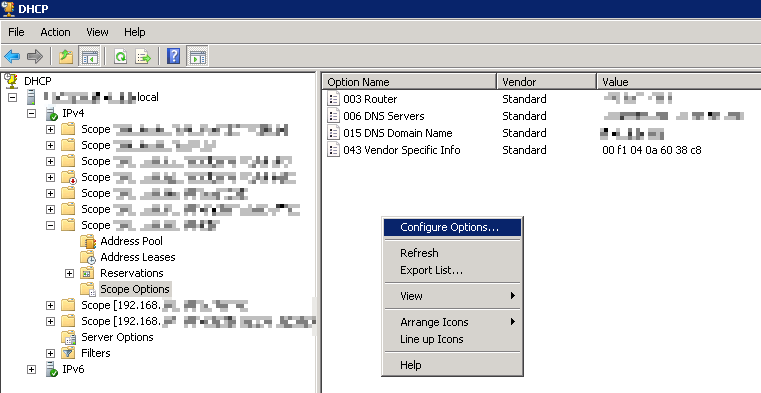 select "043 Vendor Specific Info". Now we need to type in an hexadecimal value for this. The value of this option is type, length and value. The type is fixed with value "00 F1". The length described if there are more than one WLC management IP. "04" means that the next four hex blocks define the IP address. "08" means there are two IP addresses. The last hex codes define the IP address of your management interface address from your Cisco WLC. Let's make an example:
1 WLC with IP 192.168.23.10:
00 F1 04 C0 A8 17 0A
2 WLCs with IP 192.168.23.10 and 192.168.23.20:
00 F1 08 C0 A8 17 0A C0 A8 17 14
You can convert your IP-Address with my new "IP Address to Hex Converter". Fill in the type, length and your calculated value in the binary area: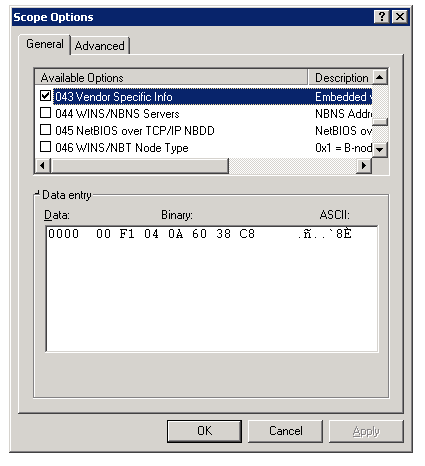 Press OK to save the option and watch at your Cisco WLC webinterface, the access points will join the controller now.