Today I had a strange problem with Cisco Aironet controller-based access points at one of my customers. I connected three new Cisco Access Points "AIR-CAP2602I-E-K9" on Cisco PoE Injectors "AIR-PWRINJ4=" to work with two new Cisco WLC "AIR-CT2504-5-K9" with the newest software version 7.5.102.0. After 1-2 minutes I could see the APs on the WLAN controller website but all radio interfaces were down. In the trap log I could see this:
Wed Oct 2 10:44:44 2013 AP MAC: d0:c7:89:cc:16:a0, AP Name: WLAPPB03, Power Type/Mode: PoE/Low Power (degraded mode).
I double-checked the powercord and compatibility between Injector and Access Point. I also made a test with a short 1m cable but I got the same problem. After several minutes of troubleshoot I found a new AP-setting in the new 7.5 software version: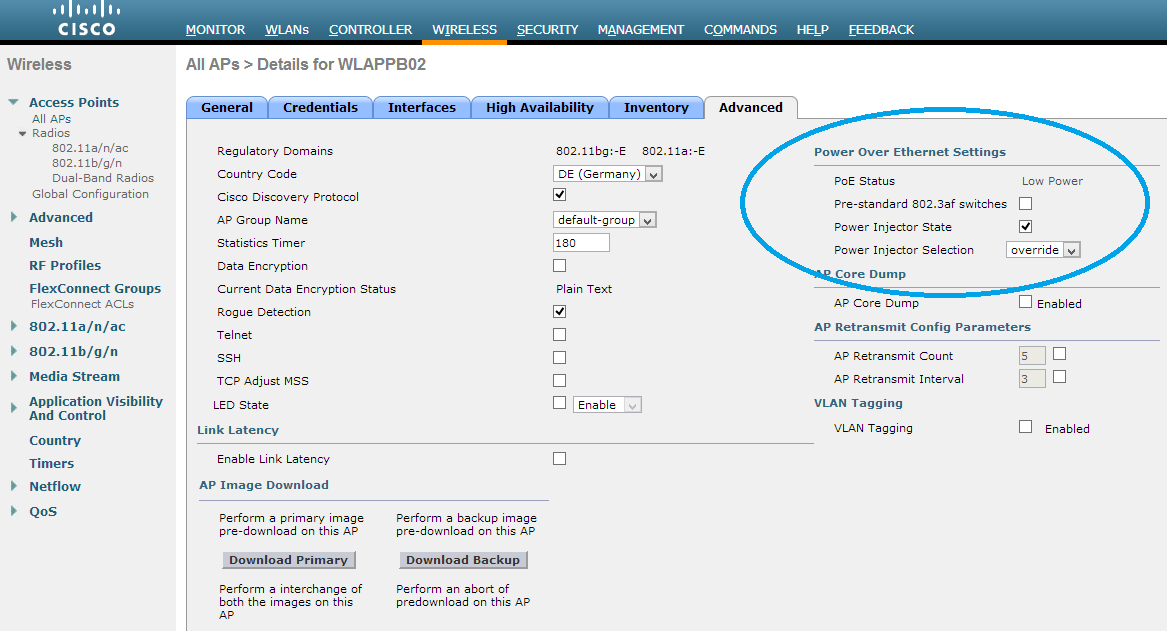 I've never saw this item before and had never problems with PoE Injectors. I found something at http://www.cisco.com/en/US/docs/wireless/controller/7.2/configuration/guide/cg_lwap.html#wpmkr1135891:
"Select the Power Injector State check box if the attached switch does not support IPM and a power injector is being used. If the attached switch supports IPM, you do not need to select this check box."
"If you selected the Power Injector State check box in the previous step, the Power Injector Selection and Injector Switch MAC Address parameters appear. The Power Injector Selection parameter enables you to protect your switch port from an accidental overload if the power injector is inadvertently bypassed. Choose one of these options from the drop-down list to specify the desired level of protection:
Installed—This option examines and remembers the MAC address of the currently connected switch port and assumes that a power injector is connected. Choose this option if your network contains older Cisco 6-Watt switches and you want to avoid possible overloads by forcing a double-check of any relocated access points.
If you want to configure the switch MAC address, enter the MAC address in the Injector Switch MAC Address text box. If you want the access point to find the switch MAC address, leave the Injector Switch MAC Address text box blank.
Note: Each time an access point is relocated, the MAC address of the new switch port fails to match the remembered MAC address, and the access point remains in low-power mode. You must then physically verify the existence of a power injector and reselect this option to cause the new MAC address to be remembered.
Override—This option allows the access point to operate in high-power mode without first verifying a matching MAC address. You can use this option if your network does not contain any older Cisco 6-W switches that could be overloaded if connected directly to a 12-W access point. The advantage of this option is that if you relocate the access point, it continues to operate in high-power mode without any further configuration. The disadvantage of this option is that if the access point is connected directly to a 6-W switch, an overload occurs."
Just activate the option "Power Injector State" and select "Override". I hope I can help a lot of people with this problem :)